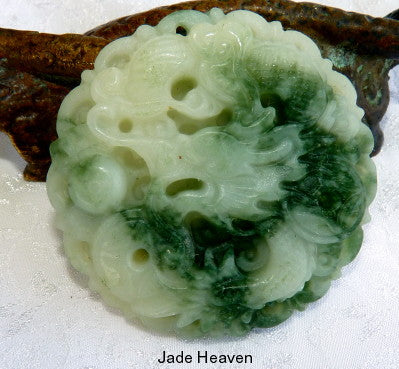 Well carved and excellent color Burmese jadeite "Yang Dragon Protects Fortune" pendant.  Size is 49 mm round, 8.3 mm thick, lots of jade with deep carving throughout.  Dragon is "yang" and powerful, and protects carved coins that represent fortune.  There are deep green "yang" veins throughout that add power to the dragon and jadeite qi energy.  The lighter green almost white color adds "yin" balance to the entire pendant.  Reverse side is smooth and polished, same color combination on reverse side.
Photos taken in natural outdoor lighting so you can see how it really looks.
Tested by refraction, genuine Burmese jadeite.
Related Products
---