Guan Yin Buddha of Compassion Grade A Natural Jadeite Pendant (JHP89-2)
---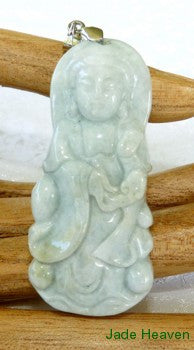 Very detailed and excellent carving on this Guan Yin Buddha of Compassion jadeite pendant.  Size is 55mm x 25mm and 7.5mm thick.  The carving is deep, giving a 3D appearance.   Reverse side is smooth and polished.  Light green grade A jadeite, and you can see the stone pattern of the jade throughout. Guan Yin is wearing a flowing robe and standing on an open lotus.  The qi energy and carving give a very spiritual feeling to the piece. 
This is old mine jadeite purchased directly from the jade carver during our shopping trip in China in 2005. 
 You can also purchase a silver chain to wear it,  see the menu for the pendant options.
Related Products
---