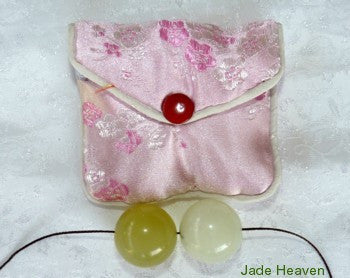 Pure and natural jade ben wa balls, each approximately 20mm round. "Yin" light green and "yang" darker green for balancing body. Hand carved, color of jade varies. These are drilled witha hole. Suggestion: use unwaxed dental floss.
These are the best quality, genuine and natural jade eggs you can purchase.  Jade has been used for centuries for eggs and kegel exercise for women because of the qi energy compatibility. Our jade carver in China purchases the rough jade from the mine, and carves to our standards.
These are (very) personal items, and sale is final, returns not accepted.
Related Products
---