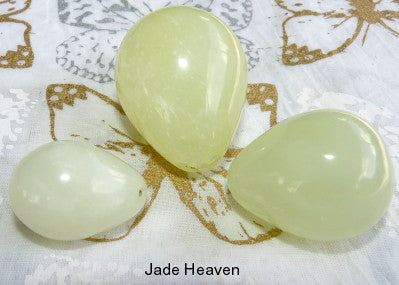 Classic light "yin"*  green jade eggs, undrilled, no holes, one each size 24mm, 30mm and 40mm. Color of jade (nephrite)  varies and may be different from shown. Set of three.  
*Why you should use light green "yin" jade: Light green color is "yin", and women are "yin" also. (Men are "yang"). The light green helps to balance your body. "Yang" might cause an imbalance, soreness, and does not have the qi energy to balance a woman's body.
Jade has been used for centuries in Asia for egg kegel exercise because of the compatibility of jade and women's qi energy. These are Chinese medicine sizes, not the larger commercial size because larger sizes may cause damage, lack of sensitivity to your body.

These are the best quality, genuine and natural jade eggs you can purchase.  Jade has been used for centuries for eggs and kegel exercise for women because of the qi energy compatibility. Our jade carver in China purchases the rough jade from the mine, and carves to our standards.
 These are (very) personal items, and sale is final, returns not accepted.
Related Products
---