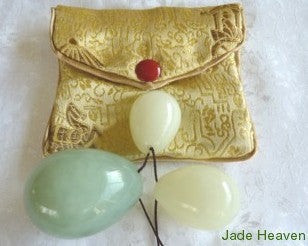 "Yin" light green and "yang" darker green
jade eggs, drilled with hole, one each size 24mm, 30mm and 40mm. Color of jade varies and may bedifferent from shown. Set of three in a sweet silk pouch, style varies. Silk pouch color varies depending on inventory
Jade has been used for centuries in Asia for jade eggs kegel exercise because jade has best compatibility with women's qi energy.
These are the best quality, genuine and natural jade eggs you can purchase.  . Our jade carver in China purchases the rough jade from the mine, and carves to our standards.
These are (very) personal items, and sale is final, returns not accepted.
Related Products
---