News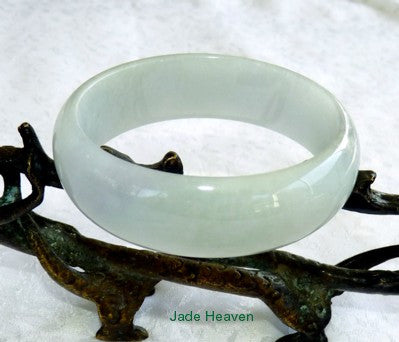 It's an auspicious time to purchase that special gift of jade, prior to Chinese Lunar New Year.You are invited to make an offer on jade bangle bracelets and pendants listed at regular price on Jade Heaven. Sale and Clearance items excluded.To make an offer, create an account on Jade Heaven. Send an email to jadeheaven88@yahoo.com. Include your name as stated in your account, the item number, regular price and your offer.After you submit your offer, we will make sure the item is in stock, and determine if it can be sold at your offer price. Then we will respond to...
---
There is a previous blog post about cracks in jade bangle bracelets.  The post mentioned "clarification lines", and readers have been asking for more information about clarification lines in jade bangle bracelets.   I recently watched an episode about gemstones throughout the world on National Geographic station.  They did a very good informative part about jadeite.  The program showed how gems were formed, by the earth's heat and pressure during its formation, and the impact of natural happenings on gemstone formation.  And the segment explained clarification lines in jade better than I have heard it explained to me in China. ...
---
For a limited time, Jade Heaven is offering a layaway option for jade bangle bracelets priced $395+.  You can layaway for 60 days.  To begin your layaway, create an account on Jade Heaven, add the item (s) to your cart and check out.  Choose the Layaway option for payment.  You can write a note in the comments box about letting us know how you would like to make your payments, the amount of each payment and the time you expect to pay, and how much you want to pay for your first payment, which will be minimum 20% of the...
---
Our "jade office" was completely re-done in August and September.  All of the jade had been in storage over the summer while our new home was being built after being damaged in a microburst tornado and hail storm.  Instead of an embarrassing messy room, the home office is now well organized, as well as beautiful with new storage areas, new curtains, rugs, shelves and office equipment. When I was organizing the office, I was amazed at how many of the "old mine" jadeite bangle bracelets purchased prior to the jadeite embargo in 2008 were in boxes and unlisted.  Those of...
---
Some women truly love lavender jade.  And almost every day, customer are looking for lavender jade bangle bracelets, or lavender jade pendants.   And of course they want "real" and grade A lavender jade.  But lavender jade, genuine jadeite and grade A, is very rare and very expensive if you can find it. Why do we love lavender jade?   Lavender is the color associated with the "third eye" chakra.  It's the only jade color that is not related to a meridian used in Chinese medicine for health and healing.  It's related to the one of the specialized meridians through...